Since we opened our very first Tap House Grill, the seeds of "service-mindedness" and "giving back" were planted. This mindset has continued to grow and has become one of our core values. We encourage our staff members to share their time, talent and resources to benefit the communities in which we serve and the many worthwhile charitable causes in around the world. Tap House Grill values help shape our culture and continue to define the character of our company today.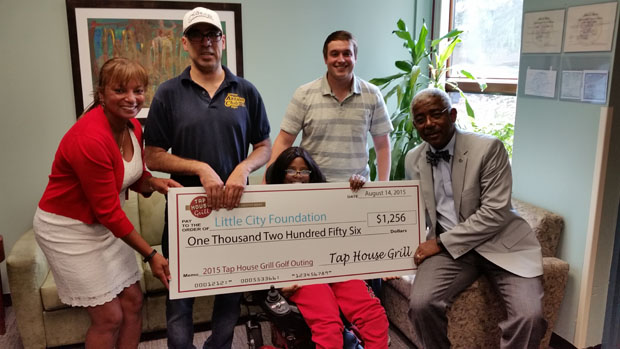 RECENT CHARITY EVENTS & DONATION
Patriots Day
Boston Beer Party
Veterans Day
TAP HOUSE GRILL LOCATIONS IN THE CHICAGO AREA
Other charities we've worked with include Maryville Academy, The Bridge Youth Services, Journeys, St. Theresa, AMS, Clearbrook, Little City, Northwest Chargers Hockey Association, Open Kitchens, Quest Academy, Soccer City Palatine, Wings program, North American Golf Tour, American Cancer Society, Anne Elizabeth McComb Swaney Foundation, Hope and Friendship, Lemont Baseball, Little Mountain Community Theater, Just Giants Rescue, Campton United Soccer Club, Stateline Sports, Fury Baseball, DG Park District– Gladiators, Indian's Softball league, Chicago North Mens Senior Baseball league, Yeazers Golf League, Knockout Women's Boxing Club, Winston Elementary School, Twisted Tree Yoga, Christ Lutheran Church, Westomnt Lions Club, Superestar Gymnastics, Cary Grove-Girls Track and Field , Cancer Kiss my Cooley, Joseph Medical Center- K9 fundraiser, Holy Family Catholic Community, St. Vincent De Paul, St. Joseph School, Aurora Area Interfaith Food Pantry, Wings program, Country Meadows Elementary, Cancer patient Assistance fund, Palatine township senior citizens council, Palatine HS Boosters, AHCF Chicago walk, United Way, Walter R Sundling Jr HS PTA, Friends of Nathan foundation, Rotary Club of Palatine, Splinters Pub–Veterans Fest, Illinois Hawks Travel Baseball, SLSF.Me- Womens golf outing, Mount St. Joseph Association, Village of Palatine, Canal Shores, All Saints Lutheran Church, AID- Assoc of Individual Development, Fox Valley Wildlife Center, Save a Pet, Hair for your foundation, Palatine's Lions Club, St. Mary Parish, St. Baldricks Foundation, St. Theresa Church, Midwest Rescue of Illionis, Oswego Cobras, St. Thomas of Villanova, Stuart R paddock School PTA, Boy Scouts, Fox Valley Presbyterian Church, St. Charles Borromeo School, St. Theresa School, Resources for Community Living, Woodifeld Area Childrens Organization- Wingfest, Northwest Suburban Special Education Foundation, Palatine Hills Golf Association, Immanuel Lutheran Church, Knights of Columbus, Joliet West Band Boosters, Wheatlands Elementary School, Cary Grove High School, St Joseph Medical Center, St. Joan of Arc, Chicago Chapter of Autism, All for Al, Three Brothers Theater, Salt Creek Park District, The food pantry Aurora – November, Rolling Meadows PD "Brew fest" , Winston Elementary School, Curesade post race, Halloween hustle, Chicago Wingfest
Tap House Grill proudly supports charitable organizations and schools in the communities we serve. Donations are made in the form of $25 gift cards for fundraising efforts of the non-profit organizations our guests care about.
Tap House Grill also participates in a "School Give Back Program". These events take place at the restaurants including Tap House Grills in conjunction with a school to promote the fundraiser at the restaurant and we "give back" a portion of the nights revenues.
If your school or organization is interested in one of our programs, please submit a donation request no later than 30 days prior to your event, written on your school or organization's official letterhead. Your request letter must include the following:
The specific purpose for the donation and how it will be used.
Proof of the organization's Federal Tax ID number.
A copy of the organization's current IRS 501(c)(3) determination letter, if applicable.
A contact name including address, phone number, fax and email, if available. Information, if any, concerning past or current involvement with our company.
Check that all details have been included in your letter. Unfortunately, requests that do not include all the above details will not be considered.
Mail to:
Tap House Management Group
c/o Scott Ward
58 W Wilson Street
Palatine, IL 60067